By Karl R. Studenroth Jr.
Between 1989 and 2011 I conducted nine herpetofaunal studies and inventories in the deep Southeast. These studies were conducted in the areas listed below. The purpose and duration of each study are also included below. The map below identifies the locations of seven of the nine study areas.
This page provides a summary of the findings and results of seven of these studies. The purpose and the results of these studies varied greatly, as did the intensity of the field research and the study periods and lengths.
1) Apalachicola National Forest, FL. Liberty Co. Flatwoods salamander study. 5 October, 2000 - 17 February, 2001.
2) Econfina River State Park, FL. Taylor Co. Faunal, floral & ecosystem surveys for unit management plan. 28 October, 1991 - 30 June, 1992.
3) Eglin AFB, FL. Okaloosa Co. Herpetofaunal survey of Green Ponds. 20 February, 1989 - 20 January, 1990.
4) Ft. Jackson, SC. Richland Co. LCTA faunal & floral study. 28 April - 13 August, 1993.
5) Grand Bay Biopreserve, AL & MS. Mobile Co., AL & Jackson Co., MS. Faunal, floral & ecosystem surveys for unit management plan. Three study periods: June - August 1997; Fall 1997; Winter 1998.
6) Torreya State Park, FL. Liberty Co. Herpetofaunal survey for Rock Creek management plan. Two study periods: 3 May - 30 June, 1994; 29 March - 8 April, 1995.
7) University of Mobile, AL. Mobile Co. Faunal, floral & ecosystem surveys for undergraduate
research project. 1 March, 1996 - 25 April, 1998 (periodic study periods).

8) Big Lagoon & Tarkiln Bayou State Parks. Escambia Co., FL. January, 2009 - December, 2010.

9) Dogwood Acres Camp & Retreat Center. Washington Co., FL. October, 2010 - March, 2012.
10) A Herpetofaunal Survey of Uvalde County & South-central Texas: Status and Abundance of Amphibians & Reptiles. August 2013 - January 2015.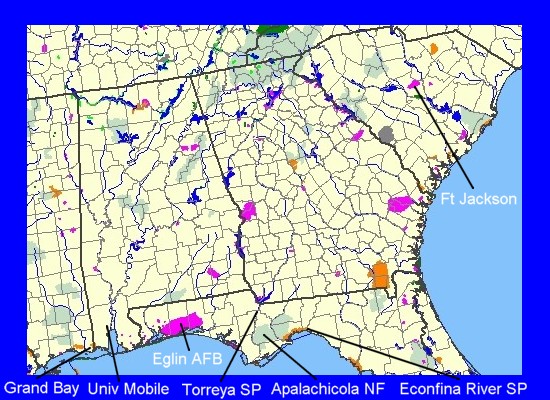 ====================================================================================
Summary Tables - Seven Herpetofaunal Studies
Explanation of symbols:
+ indicates species was commonly observed or heard calling, but not all animals were documented.
C indicates the species was documented calling.
? indicates subspecies not determined, or two subspecies characteristics were mixed.
Special note: A line above or below a species number separates a subspecies.
Amphibia:
Anura-Frogs and Toads
#) Scientific Name

Econfina River State Park, FL

Eglin AFB, FL

Ft. Jackson, SC

Grand Bay, AL & MS

Torreya State Park (Rock Creek Tract), FL

Univ.

of

Mobile,

AL

Apalachicola

National

Forest, FL

1) Scaphiopus h. holbrooki

9

3

2

6+

117

3

2) Bufo quercicus

138

49+

1C

4

3) Bufo terrestris

17+

12

29+

18+

22+

32+

22

4) Bufo woodhousei fowleri

5) Acris c. crepitans

2

6) Acris g. gryllus

6b) A. g. dorsalis

8

3+

9+

7) Hyla andersonii

8) Hyla avivoca

1+C

3+C

9) Hyla chrysoscelis

1+

2+

3+C

10) Hyla cinerea

12+

1+

11+

2+

11) Hyla femoralis

4

3+

10+

2+C

5

12) Hyla gratiosa

1

3

13) Hyla squirella

15+

11+

3+

1+

14) Pseudacris c. crucifer

72+

2

7+

1+

15) Pseudacris n. nigrita

102+

1+

1C

2

16) Pseudacris ocularis

1

1

17) Pseudacris ornata

2

1

18) Pseudacris triseriata feriarum

6

19) Rana capito aesopus

3

20) Rana catesbeiana

11+

1+

1+

21) Rana c. clamitans

7

10+

12+

37+

6+

22) Rana grylio

2+

23) Rana heckscheri

24) Rana okaloosae

25) Rana palustris

26) Rana utricularia

10+

10

2+

18+

7

27) Rana virgatipes

1

28) Gastrophryne carolinensis

13

16

15+

173

3

4

Totals = 1,161+

265+

202+

55+

164+

369+

61+

45
#) Scientific Name

Econfina River State Park, FL

Eglin AFB, FL

Ft. Jackson, SC

Grand Bay, AL & MS

Torreya State Park (Rock Creek Tract), FL

Univ.

of

Mobile,

AL

Apalachicola

National

Forest, FL

1) Necturus alabamensis

2) Amphiuma means

3

3) Amphiuma pholeter

4) Pseudobranchus striatus spheniscus

5) Siren i. intermedia

7

1

6) Siren lacertina

7) Notophthalmus perstriatus

8) Notophthalmus viridescens louisianensis

22

1

9) Ambystoma cingulatum

6

10) Ambystoma opacum

1

11) Ambystoma talpoideum

4

5

12) Ambystoma t. tigrinum

13) Desmognathus apalachicolae

176

14) Desmognathus auriculatus

1

15) Desmognathus fuscus conanti

16) Desmognathus monticola

17) Eurycea cirrigera

1

20

18) Eurycea longicauda guttolineata

27

3

19) Eurycea quadridigitata

3

7

3

99

20) Haideotriton wallacei

21) Hemidactylium scutatum

22) Plethodon chlorobryonis

35

23) Plethodon grobmani

3

9

34

24) Plethodon mississippi

9

25) Pseudotriton montanus flavissimus

25b) P. m. floridanus

26) Pseudotriton ruber vioscai

12

Totals = 492+

7

31

41

18

269

16

110
Reptilia:

Testudines-Turtles
#) Scientific Name

Econfina River State Park, FL

Eglin AFB, FL

Ft. Jackson, SC

Grand Bay, AL & MS

Torreya State Park (Rock Creek Tract), FL

Univ.

of

Mobile,

AL

Apalachicola

National

Forest, FL

1) Chelydra s. serpentina

1b) C. s. osceola

1

3

1

2) Macroclemys temmincki

3) Kinosternon bauri

4) Kinosternon s. subrubrum

2

2

9

1

4

5) Sternotherus m. minor

5b) S. m. peltifer

1

6) Sternotherus odoratus

1

7

7) Clemmys guttata

8) Deirochelys r. reticularia

3

9) Graptemys barbouri

1

10) Graptemys ernesti

11) Graptemys sp.

12) Malaclemys terrapin pileata

12b) M. t. macrospilota

__

1+

13) Pseudemys c. concinna

13b) P. c. suwanniensis

2

14) Pseudemys f. floridana

12+

3

1

1+

15) Pseudemys nelsoni

16) Terrapene carolina major

16b) T. c. triunguis

16c) T. c. carolina

2

__

15

26?

__

27

4?

2

17) Trachemys s. scripta

17b) T. s. elegans

1+

_

3

1+

18) Gopherus polyphemus

1

1

1+

19) Apalone ferox

20) Apalone mutica calvata

21) Apalone spinifera aspera

1

22) Caretta c. caretta

23) Chelonia m. mydas

24) Eretmochelys imbricata

25) Lepidochelys kempi

26) Dermochelys c. coriacea
| | | | | | | | |
| --- | --- | --- | --- | --- | --- | --- | --- |
| Totals = 141+ | 22+ | 2 | 19+ | 46+ | 30 | 15+ | 7 |
Crocodylia-Alligators and Crocodiles
#) Scientific Name

Econfina River State Park, FL

Eglin AFB, FL

Ft. Jackson, SC

Grand Bay, AL & MS

Torreya State Park (Rock Creek Tract), FL

Univ.

of

Mobile,

AL

Apalachicola

National

Forest, FL

1) Alligator mississippiensis

74+

5

Totals = 79+

74+

5
Squamata, Lacertilia-Lizards
#) Scientific Name

Econfina River State Park, FL

Eglin AFB, FL

Ft. Jackson, SC

Grand Bay, AL & MS

Torreya State Park (Rock Creek Tract), FL

Univ.

of

Mobile,

AL

Apalachicola

National

Forest, FL

1) Anolis carolinensis

6+

2

14+

2+

18+

10+

19

2) Sceloporus u. undulatus

5

1

28+

16

31+

2

3) Cnemidophorus s. sexlineatus

2

1

18+

64

1

4) Eumeces anthracinus pluvialis

5) Eumeces egregius similis

1

6) Eumeces fasciatus

4

7) Eumeces inexpectatus

4

1

4

4

9

1

8) Eumeces laticeps

13

1

7+

3+

4

1+

9) Scinella lateralis

3+

14+

20+

19+

28+

9+

83

10) Ophisaurus attenuatus longicaudus

11) Ophisaurus compressus

1

12) Ophisaurus mimicus

13) Ophisaurus ventralis

2

9

1

4

Totals = 490+

36+

19

88+

37+

136+

64+

110
Squamata, Serpentes-Snakes
#) Scientific Name

Econfina River State Park, FL

Eglin AFB, FL

Ft. Jackson, SC

Grand Bay, AL & MS

Torreya State Park (Rock Creek Tract), FL

Univ.

of

Mobile,

AL

Apalachicola

National

Forest, FL

1) Cemorpha coccinea copei

4

1

2) Coluber constrictor priapus

2b) C. c. helvigularis

14+

16

6+

6

4

11

3) Diadophis p. punctatus

2

1

4) Drymarchon corais couperi

5) Elaphe g. guttata

4

3

1

1

1

6) Elaphe o. obsoleta

6b) E. o. spiloides

_

1

4

_

3

_

7

_

1

7) Farancia a. abacura

7b) F.a.reinwardti

2

2

_

4

_

1

3

8) Farancia e. erytrogramma

9) Heterodon platirhinos

8

5

1

1

10) Heterodon simus

2

1

11) Lampropeltis calligaster rhombomaculata

1

12) Lampropeltis g. getula

12b) L.g. holbrooki

4

_

3

13) Lampropeltis triangulum elapsoides

2

14) Masticophis f. flagellum

1

2

2

15) Nerodia clarki

2

3

16) Nerodia cyclopion

17) Nerodia e. erythrogaster

17b) N. e. flavigaster

2

1

18) Nerodia f. fasciata

8+

3

1

8?

3?

19) Nerodia floridana

20) Nerodia sipedon pleuralis

21) Nerodia rhombifer

1

1

22) Nerodia taxispilota

23) Opheodrys aestivus

1

1

6

2

24) Pituophis m. melanoleucus

24b)P.m. mugitus

1

_

1

25) Regina alleni

26) Regina r. rigida

26b) R. r. sinicola

_

2

5

27) Regina septemvittata

28) Rhadinaea flavilata

1

29) Seminatrix p. pygaea

30) Storeria dekayi wrightorum

30b) S. d. limnetes

_

1

31) Storeria occipitomaculata obscura

1

1

32) Tantilla coronata

2

10

1

33) Thamnophis s. sauritus

33b) T. s. nitae

_

4

21+

7

34) Thamnophis s. sirtalis

34b) T. s. similis

__

10

3

1

1

2

8

35) Virginia striatula

36) Virginia v. valeriae

1

Totals = 263+

55+

7

59

60+

28

15

39
#) Scientific Name

Econfina River State Park, FL

Eglin AFB, FL

Ft. Jackson, SC

Grand Bay, AL & MS

Torreya State Park (Rock Creek Tract), FL

Univ.

of

Mobile,

AL

Apalachicola

National

Forest, FL

37) Micrurus f. fulvius

1

1

38) Agkistrodon c. contortrix

1

1

39) Agkistrodon p. piscivorus

39b) A. p. leucostoma

39c) A. p. conanti

___

11+

_

1

4

_

7

_

2

_

1

_

4

40) Crotalus adamanteus

1

1

41) Crotalus horridus

1

42) Sistrurus miliarius barbouri

7

4

Totals = 48

19+

1

6

7

5

1

9
Final Summary
| | | |
| --- | --- | --- |
| Animal Type | # Animals | # Species |
| Frogs & Toads | 1,161 | 23 |
| Salamanders | 492 | 15 |
| Turtles | 141 | 12 |
| Alligators | 79 | 1 |
| Lizards | 490 | 10 |
| Snakes | 263 | 26 |
| Venomous snakes | 48 | 6 |
| Totals | 2,674 | 93 |