Upland Sandhill habitat has disappeared at an ever-increasing rate across the Deep South. Because of its high and dry nature, Upland Sandhills are very suitable for a variety of human activities, such as development, subdivisions, agriculture, etc. A very unique and specialized array of amphibians and reptiles are found within this ecosystem. Perhaps the most important and significant is the Gopher tortoise, along with a host of numerous species associated with tortoises that rely upon Gopher tortoise burrows for various aspects of their survival.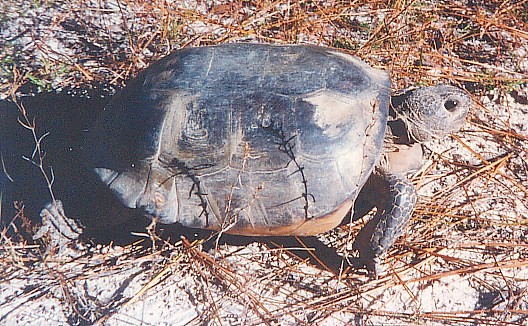 (Above) Gopher Tortoise (Gopherus polyphemus). Mobile Co., AL.
The Gopher tortoise is one of the most important forms of wildlife within its range. Over 300 other species of wildlife utilize the burrow tortoises excavate for various reasons. Gopher tortoises have greatly declined for a variety of reasons including: development & loss of habitat, forestry & agricultural practices, highway mortality & use as food by humans.